Master of Public Policy
University of Utah's Master of Public Policy (MPP) program combines policy and economic analysis with quantitative sources for students to build the necessary analytical skills needed to effectively solve public policy problems. These core skills are valuable in national, state and local governments, "think tanks", consulting firms, non-profit groups and private companies throughout the United States and world.
---
About the Program
The Master of Public Policy program contributes to public service and public policy analysis by advancing understanding of the policy process, and producing graduates equipped to research, analyze, and inform public policy making. We develop the individual by challenging and assisting each student to reach their professional and academic potential. We strive to create a community that fosters mutual respect, enhanced by a strong partnership between faculty, students, and staff.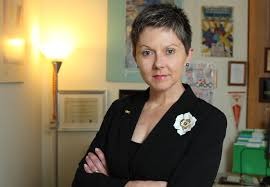 Sharon Mastracci started at the University of Utah in Fall 2015. She was a 2014-2015 Fulbright Scholar to the United Kingdom and prior to that, spent 13 years at the University of Illinois at Chicago Department of Public Administration. Born and raised in Ohio, she earned BA and MA degrees in Economics at Ohio University and then worked as an Economist at the State of Ohio Legislative Budget Office. She earned her PhD in Public Policy at the University of Texas at Austin. Sharon studies gender in organizations and public sector employment, specifically emotional labor in public service. Her husband, Tony Mastracci, also teaches for the Programs of Public Affairs. Tony holds BBA and MPA degrees from Ohio State University and is currently pursuing his EdD at the University of Pennsylvania. Sharon and Tony live, work, and play in Salt Lake City.
Sharon Mastracci, Professor
Director of the Programs of Public Affairs

The University of Utah Master of Public Policy program began in 2006 as a response to the growing need expressed by students and professionals to educate and train leaders who can understand, analyze, and evaluate public policy issues through a multi-disciplinary approach. Public policy is present in nearly every context of the labor market and community, be it economic, political, domestic, or international. Many government and nonprofit organizations in the state have expressed a need for individuals who cannot only manage, but also perform analytical work to address policy questions and effectively communicate the analysis to others.
Currently, University of Utah's Master of Public Policy program is the only one offered within the Utah System of Higher Education (USHE). Our program is located in the College of Social and Behavioral Sciences and housed in the Center for Public Policy & Administration. The mission of the Center for Public Policy & Administration is to provide research, education, and services to public and nonprofit organizations that will strengthen administration, leadership and public policy making.
Student Spotlight:
Hannah Elliot

Who are you?
I've worked for the University of Utah for the past six years, mostly in the School of Medicine, but recently transitioned over to the College of Nursing. My undergraduate degree is in Economics with an emphasis in statistical analysis, I knew I wanted to continue to build upon that, which is why I chose the MPP program. I'm mostly interested in international policy areas but have worked on policy regarding youth homelessness in Utah and health care expansion in Utah. I chose the MPP program due to the many policy concentrations, but also that this program teaches you to not only understand the policy/programs but to evaluate and analyze them. My career goal is to work for the US State Department, I want to work on economic policy evaluation and development
What is your favorite part about the MPP program?
I enjoy the fact that many of the instructors are so diverse in their expertise. Economics professors, political science professors, Kem Gardner Policy Institute, Hinckley Institute, research directors; this has given a broader education knowledge base and many experts in various fields to turn to.
What is your advice to new MPP students?
Graduate school is hard. It will push you more than your undergraduate did. Don't forget to take care of yourself first. I spend a significant amount of time working on homework for classes, but I always make sure to set aside time for myself. A quick hike, a stroll around Target, going to dinner with friends, having a hobby (mine is cross stitching and baking!). Something to keep you sane will make graduate school less stressful.